FAQ
What is Warm Shape?
Warm Shape is a brick and mortar shop in Tucson, AZ where I have my workshop and retail space. Online, Warm Shape is an e-Commerce platform where I sell my collections and creations. Basically, it is my creative brainchild; a one-woman show for now. Well, two if you count my sweet dog Lady :)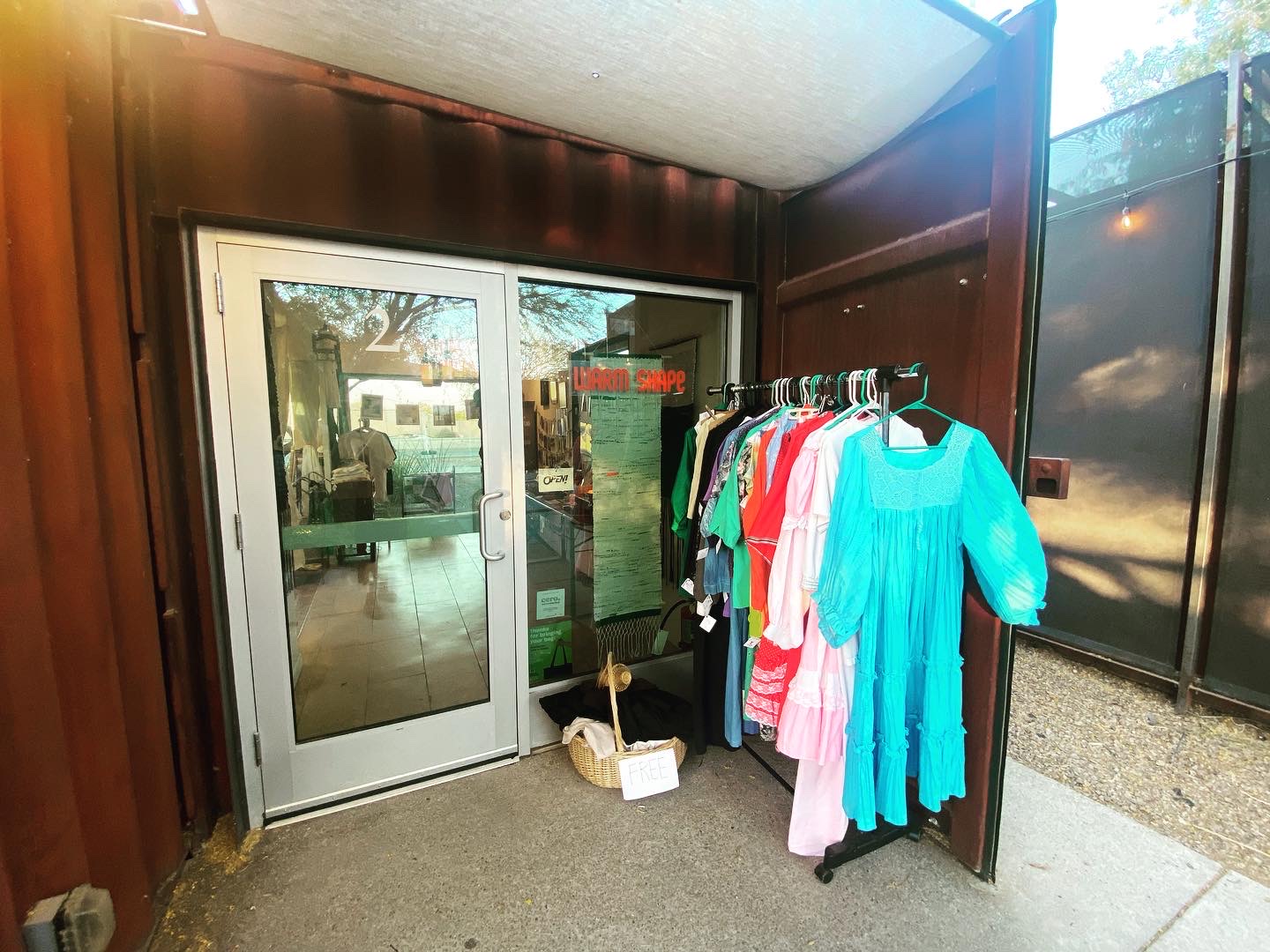 What do you sell at Warm Shape?
I sell a wide variety of things at Warm Shape! At the physical location, I sell my drawings on t-shirts, hats, prints, mugs, bookmarks, keychains, stickers, swimsuits, and shoes. I also collect second-hand clothing and home goods, and I sell leather bags and earrings that my sisters make and send over. (To see more of their work, visit Carolyn's leatherwork here and Summer's charm jewelry here.



What do you make in your workshop?
In addition to drawing, I am also a weaver. I have three looms in my workshop! I have a printer and some sewing machines too, so I'm ready to make whatever, whenever! At this time I'm leaning into weaving, making wall hangings out of VHS tape, plastic bags, and upcycled textiles from the bins. I upload these wall hangings onto my
website each time I make a series.



How do you make your art?
I am an oil painter, crafter, and illustrator. For the last few years my primary way of making art is digital drawing on my iPad, using Procreate and an Apple Pencil. Highly recommend!



Where do your other products come from?
I use a website called Printful for all my t-shirts, hats, mugs, shoes, swimsuits, totes, shorts, basically all my "merch" with my art printed onto it. This is a starting point for me but I am going to change my business model in 2024 to include local printers, eventually phasing out Printful altogether.

Is Printful an ethical company?
What I like about Printful is that they do seem to be trying to change the wasteful and abusive fast fashion industry by making things to order (reduces waste) and by having practices in place to monitor the labor practices of the manufacturers they use. You can find out more about their code of conduct here and their sustainability and responsibility articles here.



What's the difference between your shop and your online store?
The shop in Tucson has vintage and second-hand stuff, which I don't often list on the website. Another difference is that I'm not able to keep every size of every clothing design stocked at the shop, so the website is the guaranteed option for getting exactly what you want, in the size you want.

How long does shipping take?
Each item takes a different amount of time, and is noted in the product description. Please look closely because some things take a few weeks to arrive! That's because of a few factors: some products are coming from other countries, and they are also made-to-order, which takes a little extra time.
For items I ship personally, they usually go out once a week on Friday.

Only part of my order came, what should I do?
Some items ship directly from Printful to you, and others come from me at my shop. Printful will send shipping info for their parts, and I will send tracking numbers when I can for my part. Feel free to check in at [email protected]

What should I do if something doesn't fit right?
I know it can be hard buying clothes online, so I hope everyone is looking at the size charts provided in the images to try their best to get the right fit! Still, I understand that there can be sizing discrepancies between those charts and the actual product, so please reach out if something feels off. I prefer not to give refunds for buyer's remorse, since everything is made to order, but don't hesitate to reach out to see about solutions! Everything is resolvable.

What should I do if the print on something doesn't look right or is off-center?
Occasionally the printer allows things through quality control that shouldn't have passed, like faint prints, or wrong colors, or off-center. If that's the case, please get in touch with me at [email protected] along with a picture and we'll go from there! Prinftul is good at replacing defective items and you won't have to send the original back. Just let me know if this happens, thanks!

What's the deal with shipping costs?
Printful has shipping costs by item. They control how items ship, meaning they may not put everything into one box, or item may be shipping from different locations. I have to follow their shipping costs even though I would prefer to keep shipping costs low for you! I ship the items they don't make from my store, and the shipping is based off actual shipping costs at USPS. Still, if you're finding shipping is adding up on your end, please reach out to me at [email protected] or @warm.shape on Instagram and we'll see if we can figure something out! It's possible I might have the Printful merch you are looking for here in the shop, in which case I can box everything together and refund you the shipping overage.